Taking autistic kids out to a ball game
This article written by Kathleen Toner appeared on CNN.com on Wednesday November 26.  Here's the link to the original CNN.com article.
Dr Wendy Ross is the Director of the Center for Pediatric Development and founder of Autism Inclusion Resources.
Every day Dr. Ross would diagnose children with autism.  For that moment of truth telling, she compensated by making sure her patients had the best educational, therapeutic and medical plans that she could both devise and help them implement. Then she realized this would not be enough, not for them, and not for everyone else.
Every year that a child is not participating in the community, gaining experience, directly affects the trajectory of their lives.  Therapies that are delivered in real world settings provide maximum benefit for those that may not easily transfer existing skills to new environments. With this experience, our population of those with autism can meet their potential and contribute back to society. They can have a true, positive impact on our economy.
Today, her nonprofit, Autism Inclusion Resources, helps families affected by autism navigate challenging social situations, such as airport travel, sporting events and museum visits.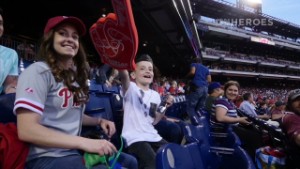 Many Major League Baseball teams hold annual "autism awareness nights," when they take temporary measures such as lowering the volume on the public address system. She armed all the Phillies game-day employees — approximately 3,000 people — with knowledge about autism and how to interact with individuals who have the disorder. Now, everyone from the ticket takers to the hot dog vendors at Citizens Bank Ballpark help create an atmosphere where families feel supported. Ross also helps prepare the families for the event. They are given a booklet with pictures illustrating each step of the game, from arrival and getting a hot dog to the seventh inning stretch. Then she escorts families to their first game, with tickets donated by the Phillies.  Here's the article published by MLB about Autism Awareness Month in Major League Baseball.
It is exciting to hear about another initiative aimed at preparing people with autism or developmental disorders for positive real life experiences.  The team at Foov Fitness, would like to congratulate Dr Wendy Ross who will be honored as one of CNN Top 10 Heroes.
Dr. Wendy Ross the founder of Autism Inclusion Resources and the rest of this year's top 10 CNN Heroes will be honored Sunday, December 7, during "CNN Heroes: An All-Star Tribute." The annual show airs at 8 p.m. ET on CNN's global networks.
Here's the link to the CNN.com article Taking autistic kids out to a ball game and a link to the Autism Inclusion Resources.